Southview Graduates 2020!
Southview VBS 2020 Registration (Click Here)

Click the image for Live-Streaming on Southview YouTube Channel
Important Announcement (3/18/2020)
Hello Southview family,
I hope that each one of you is comfortable and healthy in this rapidly developing situation.  The church board and I want to share with you the latest information regarding Southview during this time of limited group size and social distancing.
Since our last communication, the Minnesota governor has asked for group sizes to be limited to fewer than 50, and the president has asked for groups to be contained to fewer than 10 people.  The Center for Disease Control (CDC) has said that these policies will likely need to be in place for the next 8 weeks.
Because of this, Southview is extending its suspension of in-person worship.  We will be live-streaming all Sabbath services until further notice.
To improve the quality of our life-streaming feed, the church board last night (3/17) approved the purchase of new cameras and hardware that will allow for higher quality video, multiple camera angles, and new abilities for graphics to be layered on top of the video feed.  It also will be easier to run, which will allow for more predictability of the stream, and allow for more people to be trained on how to run the feed.
This is an exciting announcement and we are looking forward to when the equipment arrives and we will be able to use it!  Elders Ralph Cramer and Marty Wood are working with Church Treasurer Bruce Houchins to buy the equipment.  We are working to get the new equipment in place in the near future. 
In times like these, it's easy to get caught up in worry and concern.  We would do well to keep our eyes focused on the Lord and remember that He alone is our true source of life and stability.  "He shall be like a tree planted by the rivers of water, that brings forth its fruit in season."  Psalms 1:3 NKJV
Pastor Sean Lee
Southview Christian School 2020-2021 Registration Information Request. Click Here!
Welcome to Southview!
The Southview SDA Church in Minneapolis MN, is known as a warm and inviting  family. This growing congregation is one of the most diverse churches in North America with over 550 members from families that represent over 30 nations around the world. We are a church that is committed to Uplifting Jesus, Building Community, and Enriching Lives. With worship on the weekends and many mid- week programs and LifeGroups you are sure to find something exciting to help you feel at home. Everyone is welcome and we hope to meet you soon.
Pastor Sean Lee
Every week's sermon note is available.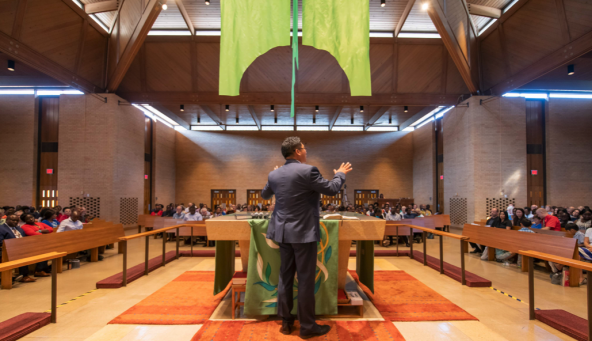 Please join with us through live-streaming! (10:45 AM CST Every Saturday)

Southview Connect App
Download our mobile app for announcements, the latest sermons, and other information to keep you connected to Southview Church. Click on one of the images below.