Southview suspends In-Person worship until the end of December. 
You can join our service via live-streaming every Sabbath morning at 9:30, including mission stories, Sabbath school panel discussions, music, and sermonss. Please Click and Join us!
November 20, 2020 
Southview family and friends,
In response to the escalating situation with COVID-19, we are extending the pause of in-person worship services through the end of December. We are actively assessing the situation and will communicate the plan for January services before the end of December.
In making this decision, the church board consulted with some of our members who are in the medical field. The advice that we received is that with the rising infection and hospitalization rates, there is a shortage of hospital beds and medical staff. Consequently, there is an anticipated effect on the availability of health care to the general public.
As a church, we cherish worshipping together in the house of the Lord, and at the same time, we need to take practical measures to look after the health of our Southview Family. We also want to serve our community by making sure we are not unintentionally contributing to the increased load on our health care system.
For these reasons, we will continue to worship online-only through the end of December. Church leadership will continue to watch the situation and consult with various experts on how to best proceed in a manner that balances the benefits of social connection and in-person worship with the present reality of the pandemic we are dealing with.
We will provide updates as we have them and will communicate the plan for services in January before the end of December.
We pray that God's blessings of health and peace are with you and your loved ones in these unique times. Although we are not together in person, we are one church. If you or someone you know has unmet needs, please connect with church leadership through the Southview Church Connect app.
Pastor Sean Lee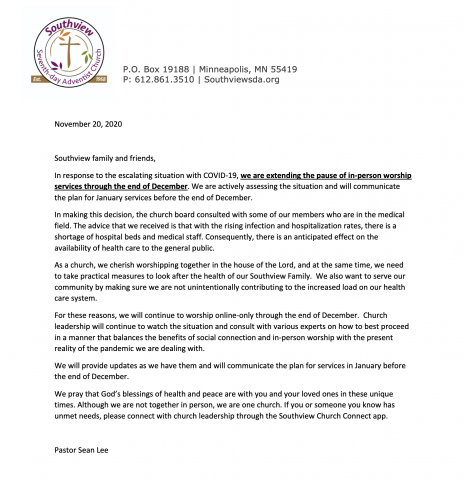 Welcome to Southview!
The Southview SDA Church in Minneapolis MN, is known as a warm and inviting  family. This growing congregation is one of the most diverse churches in North America with over 550 members from families that represent over 30 nations around the world. We are a church that is committed to Uplifting Jesus, Building Community, and Enriching Lives. With worship on the weekends and many mid- week programs and LifeGroups you are sure to find something exciting to help you feel at home. Everyone is welcome and we hope to meet you soon.
Pastor Sean Lee
Click the image for Live-Streaming on Southview YouTube Channel
Southview Christian School 2020-2021 Registration Information Request. Click Here!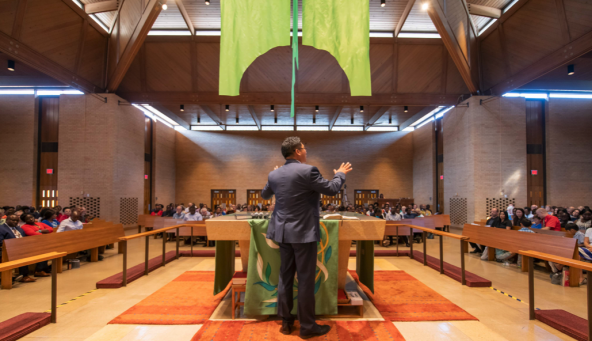 Please join with us through live-streaming! (10:00 AM CST Every Saturday)

Southview Connect App!!
Download our mobile app for announcements, the latest sermons, and other information to keep you connected to Southview Church. Click on one of the images below.