Details of Southview's In-Person Worship Service
Southview Church suspends In-person worship until the end of December. (Updated on 11/20/2020) Please read the following statement. 
November 20, 2020 
Southview family and friends,
In response to the escalating situation with COVID-19, we are extending the pause of in-person worship services through the end of December. We are actively assessing the situation and will communicate the plan for January services before the end of December.
In making this decision, the church board consulted with some of our members who are in the medical field. The advice that we received is that with the rising infection and hospitalization rates, there is a shortage of hospital beds and medical staff. Consequently, there is an anticipated effect on the availability of health care to the general public.
As a church, we cherish worshipping together in the house of the Lord, and at the same time, we need to take practical measures to look after the health of our Southview Family. We also want to serve our community by making sure we are not unintentionally contributing to the increased load on our health care system.
For these reasons, we will continue to worship online-only through the end of December. Church leadership will continue to watch the situation and consult with various experts on how to best proceed in a manner that balances the benefits of social connection and in-person worship with the present reality of the pandemic we are dealing with.
We will provide updates as we have them and will communicate the plan for services in January before the end of December.
We pray that God's blessings of health and peace are with you and your loved ones in these unique times. Although we are not together in person, we are one church. If you or someone you know has unmet needs, please connect with church leadership through the Southview Church Connect app.
Pastor Sean Lee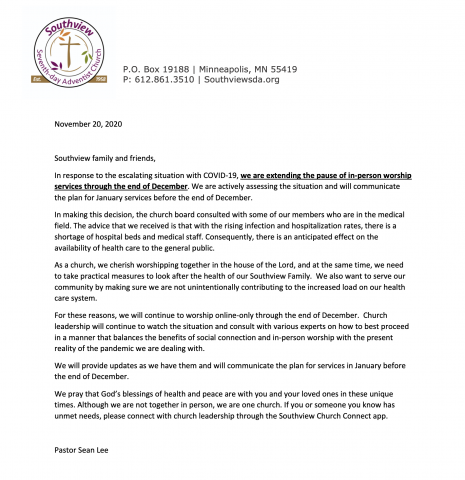 RSVP sign-up is not required anymore 
Streaming Service Ongoing
We will continue to have our service streamed online through YouTube and Facebook
If you are not ready to join the in-person worship service, continue to stream worship with us at home 
Church doors open at 10:30 am
Enter the church starting at 10:30 am for Worship 
Earlier access granted to the AV team and other service participants 
The service starts promptly at 11 am
Health Screening
Prepare to stop at health screening tables at the church entrance 
Health screening includes: temperature check and state-supplied Covid-19 symptom questions 
You will not be able to enter the church if your temperature is too high or if you are exhibiting symptoms
If you are sick, even with a regular cold, please do not come to church.  We look forward to worshiping with you when you are healthy
Masks are required
Masks are required at all times when you are in the church building

The only exceptions are those who are:

Actively participating in the service
Those under 2 years of age

Please bring your own mask. There will be a few masks available for those who forgot their own. 
Assigned seating
Attendees will be assigned seats upon their arrival at the church in order to keep social distancing.  
Attendees need to sit where they are assigned 
Remain distanced from others that may be seated nearby
Narthex Closed
Socialize outside of the church building
Do not socialize in the Narthex 
Limit restroom use
Only one person (or family) allowed in the restroom at a time
Wait to use the restroom on 6' spacing marks, if needed. 
No food or drink
Food and drink are not permitted in House of Prayer, except water.  
Please bring a water bottle if you feel you will need a drink.  
The church's drinking fountains have been turned off
Sabbath School
All Sabbath School will continue virtually
Children's Sabbath School will be from 9-10am via Zoom
Adult Sabbath School will stream from roughly 10-11am and will also be shown in the sanctuary for on-site worshippers to watch while the sanctuary is seated
Nursery Closed
House of Prayer's Nursery will be closed
Nursing Mothers must practice social distancing
The Nursing Mother's room will be accommodated in another room inside of House of Prayer
Bibles and Hymnals Removed
Bring your own Bible
Hymnals are not needed (We will not have congregational singing) 
Bibles and hymnals have been removed from pews to reduce contact.  
Children's story
Children must remain in their seats for Children's Story, rather than come forward and sit together
Organized dismissal
Wait for dismissal directions to get out in an orderly manner 
The presiding Elder will coordinate the dismissal of the congregation
(Revised 11/20/2020)